press reviews
Information page
So what exactly is a press review?
What types are there and what are the legal framework conditions for
creating and distributing press reviews?
Here is a brief introduction to familiarise you with this subject.
Explanation of the term "press review"
Paper press reviews
Digital press reviews
Exemptions pursuant to Section 49 of the German Copyright Act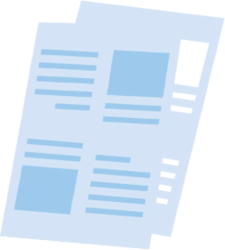 What is a press review?
A press review is a compilation of recent articles and items from various press products, such as newspapers, magazines and, increasingly, also online publications. Press reviews are created by companies, authorities, associations and other institutions for the purposes of providing information to employees or members.
The press reviews are either created and distributed internally by the responsible department within an organisation or, alternatively, an external service provider, such as a clipping service or cutting service provider, selects the items and compiles them into a press review according to the client's content specifications.
Press reviews can be created and distributed on paper or digitally.
Paper press reviews
While paper press reviews are being produced less and less, they are still important in many institutions. Paper press reviews are generally produced in five steps:
Searches in print editions of newspapers and magazines.
Cutting or copying of the relevant items, sometimes including figures and graphics.
Compilation of the cuttings or copies in a press review document.
Duplication of the original press review document by making copies.
Distribution and forwarding to the readership in the institution.
Paper-based press reviews can be created and distributed either by the responsible departments within an organisation or by an external service provider (media monitoring organisation, clipping service, media analysis service) on behalf of the customer.
In this case, the individual requirements of the client dictate the media monitoring and creation of the press review.
Digital press reviews
The main characteristic of digital press reviews (previously known as "electronic press reviews") is that the content appears or is saved, processed and made available in digital format.
The content is generally taken from classic print editions and accompanying online titles of various press products.
In the case of print media, previously selected articles, pages or complete editions are digitised by means of scanning. If entire issues of newspapers or magazines are scanned, the relevant items can also be selected at a later stage once the data is available in digital format.
If the content to be included in a press review comes from online sources, re-scanning is not required. In this case, the items in question simply need to be evaluated according to the specified search criteria.
Finally, the selected relevant items can be made available to the readership via e-mail or as a download.
The above steps can be performed within an organisation, for example, by designated public relations departments or communications officers. An alternative solution is to commission an external media observer.
The PMG press database provides a very convenient way of creating a digital press review. It contains items from around 2500 newspapers, magazines, online media and agencies entirely in digital format. This makes laborious scanning of print editions and searching through individual online sources a thing of the past.
EXCEPTION PROVISION PURSUANT TO SECTION 49 OF THE GERMAN COPYRIGHT ACT ("PRESS REVIEW PARAGRAPH")
Based on an exception provision in the German Copyright Act, it is possible to create digital press
reviews in a highly restrictive form:
Articles relating solely to political, economic or religious issues of the day can be circulated within a press review. The maximum retention period for these articles is seven days and they may be distributed only in the form of a graphical representation of the original article.
Moreover, usage intensity of the electronic press review must not exceed that of the paper press review.
QUESTIONS REGARDING THE CREATION, LICENSING AND DISTRIBUTION OF PRESS REVIEWS
1. WHY IS A LICENSE REQUIRED IN ORDER TO CREATE A (DIGITAL) PRESS REVIEW? WHY DO I NEED A LICENSE?
Due to the regulations in the German Copyright Act and the judgements of the Federal Court of Justice.
In order to be able to legally distribute the item/article within a (digital) press review.
2. CAN I SCAN OR MAKE A SMALL NUMBER OF COPIES OF INDIVIDUAL ARTICLES FOR MY COMPANY AND FORWARD THEM TO A LIMITED READERSHIP?
No. As soon as an article is scanned/copied, it counts as a duplication, and the item must therefore be licensed. There is no minimum limit.
3. WHAT HAPPENS IF I CREATE AND DISTRIBUTE MY PRESS REVIEW WITHOUT OBTAINING THE LICENCES TO DO SO?
Unless agreements have been made with the rights holders/publishers, this represents is a copyright infringement.
Subsequent licenses can be obtained via PMG Presse-Monitor GmbH as a company operating on behalf of German newspaper and magazine publishers.
Criminal consequences/claims for damages are possible.
4. CAN THE LICENSED ARTICLES BE USED FOR MEDIA ANALYSES?
No. The press review licences only authorise the distribution of items within an organisation in the form of a press review.
They also entail a requirement for active deletion after a period of four weeks. The file copy of the press review, which can be saved for up to twelve months, must not be used as the basis of a media analysis either.
Moreover, articles/items must not be passed on to external service providers for media analysis purposes.
DO YOU STILL HAVE QUESTIONS ON CREATING AND LICENSING PAPER PRESS REVIES OR DIGITAL PRESS REVIEWS?
The experts at PMG Presse-Monitor GmbH will be happy to assist.
Enjoy a free, no-obligation trial of our tools or
submit your individual questions to our team.